Dennis Wright v. Elizabeth Robinson & Richard Taylor. Agreement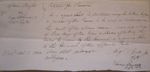 It is agreed that Depositions may be taken before a Justice of the Peace to be used in Evidence on the trial of the above cause, provided notice of Five days of the time & place of taking the same be given by the Counsel so requiring them to the Counsel of the opposite Party.
May still summon witnesses.
Washn. Nov. 1, 1822
Augs Taney for Petr.
Thomas Randall Defts atty.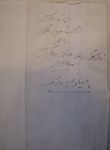 Trials
Wright
vs.
Taylor & Robinson
No 952.