Robert Henley v. Samuel Miller. Statement of Facts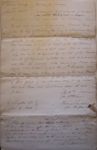 Statement of Facts submitted to the Court upon which their judgment is prayed.
It is agreed in this case that the Petitioner Robert Henly was removed by his owner Bennett Jarboe from the City of Washington (being a Maryland born Slave) to Alexandria in the County of Alexa Dist of Cola in the year 1801. That the said Bennett Jarboe continued to reside in Alexa with the Petitioner for a period of Seven or Eight years. That no record Entry nor oath as required by an Act of the Commonwealth of Virginia entitled "an Act to reduce into One the several acts concerning Slaves, Free negroes & mulattoes" passed the 17th December 1792 was at any time taken or made by the said Bennett Jarboe. That the claim to the said Petitioner is [illegible] by Bill of sale of one Andrew Way Jr. by whom the said Slave was purchased from the said Jarboe.
Richd Wallach for Petitioner
Thomas Randall for Defendant
Washington Cy. Novr 2 1822
March 5. 1825
I hereby certify that Robert Henley alias Robert Helley, the bearer, is the same person who recovered judgment in the name of Robert Henley on a Petition for his freedom agts Maj. Saml Miller filed by me as his atty in the Circuit Court of the District of Columbia for Washington County.
Richd Wallach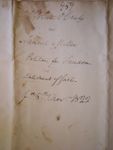 959
Robert Henly
vs
Samuel Miller
Petition for Freedom.
Statement of facts.
fd 5th Nov. 1822