Samuel Bias v. John Rose. Statement of Facts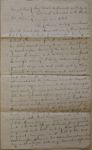 The following mortgage was Recorded June the Second 1817. Know all men by these presents that I George Richard of Washington County and District of Columbia for and in consideration of one dollar current money to me in hand paid by Washington Bowie of the same county at or before the sealing and delivery of these presents the receipt whereof I hereby acknowledge have granted bargained and sold by these presents do grant bargain and sell unto the said Washington Bowie his executors and administrators the following named Negro slaves to wit one negro man named Samuel Bias aged about twenty five years one mulatto woman named Sethe Bias aged about eighteen years and wife to said Samuel one negro woman named Serra Williams aged about nineteen years which said negro slaves are recorded in the clerks office of the County as the property of the said George the aforesaid Sethe Bias being recorded by the name of Sethe Goens her name before her marriage and I the said George Richards have granted bargained and sold and by these presents do grant bargain and sell to the said Washington Bowie his executors administrators and assigns all my household furniture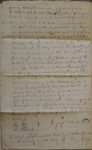 of every description, now in my occupation, To Have and To Hold all and singular the said negro slaves and household furniture as above bargained and sold or mentioned or intended so to be to the said Washington Bowie his executors administrators and assigns forever. The Condition of this Bill of Sale is such that whereas the aforesaid Washington Bowie has endorsed sundry notes for the said George Richards amounting to the sum of three thousand and eighty nine dollars now of the said George Richards Shall well and truly pay the said sum of three thousand and eighty nine dollars together with such interest on the same (as may be due) in current money of the District aforesaid where demanded by the said Washington Bowie then this Bill of sale to be null and void otherwise to be and remain in full force and virtue. In Testimony whereof I have hereunto affixed my hand and Seal this twenty ninth day of May one thousand eight hundred and Seventeen
George Richards (seal)
Witness
John Ott
John Green Jr
District of Columbia County Washington sct on the twenty ninth day of May 1817.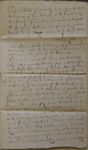 George Richards personally came before the subscriber one of the Justices of the Peace for the County aforesaid and acknowledged the foregoing Instrument of writing to be his act[?] and Deed delivered for the purposes therein contained.
John Ott
and afterwards the following assignment thereof was made with the knowledge and without any objection on the part of Geo Richards
Assignment Recorded December 2nd 1817. For value received I hereby assign and transfer unto Capt. John Rose of Loudon County Virginia his heirs and assigns all my right title and claim to the property vested in me by the preceeding Bill of Sale or instrument of writing as security for three notes of Geo Richards to me viz. one dated 29th Oct 1816 at 6 months for $245 one d. 3 mon[?] 1817. 60%[?] 244 one d. ...... 4 months $2600 together amounting to 3089 to say[?] three thousand and eighty nine Dollars and interest thereon to the tenth day of June 1818 also all my right title and claim and interest on said notes It being clearly and fully understood Between me and the said Rose that neither I my heirs executors or administrators are to be held liable or in any manner responsible to the said Rose his heirs executors or administrators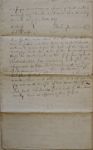 or assigns as endorsers or assigners of said notes witness my hand and seal this twenty second day of Novr 1817.
Washington Bowie (seal)
Witness
L.P.W. Balch
It is further admitted that the said Petr was imported into this State by said Richard within 3 years before the date of the said mortgage and the date of the said assignment that he continued in the possession of said Richard till his insolvency and after the assignment of Rose still continued in his possession as holding them for his wife the daughter of said Rose who advanced the money to said Bowie and obtained said assignment for use and benefit of his said daughter That said Richard petitioned for the Insolvency saw as appears by these papers