Priscilla Queen v. Francis Neale. Petitioner's Bill of Exceptions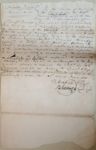 In the trial of this cause the Counsel for the Deft. having without objection offered & read to the Jury the whole deposition of Benjm Duvall (here insert it) particularly that part of said deposition which contains the declaration of the person[?] woman who is represented to be the mother of Nanny Cooper & living at James Carroll's & who is called therein by the deponent the Papaw Queen; the Petr's Counsel thereupon offered to read that part of Fredus Ryland's deposition which contained declarations of the woman mentioned in that deposition of her place of birth & residence of the said woman.
But the Court refused to allow the the said part of the said deposition to be read in evidence to the Jury to which opinion & refusal the Petr by her Counsel excepts & prays the Court to sign [illegible] this her bill of exception[?] which is accordingly done this 21st day of June 1810
W Cranch. (Seal)
N Fitzhugh (Seal)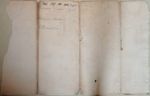 206. 237. 188. 216. 248. 249.
Priscilla Queen
vs.
Francis Neale
Petns exception