Rachel Lyons v. Richard M. Johnson. Petition for Freedom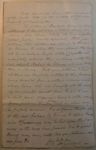 The petition of Rachael Lyons on behalf of herself & her children Nicholas Peggy Lucy Nancy Polly Charles & Nelly all under age & colored peoples humbly represents, That your petitioner & her children are claimed by Richard M. Johnson, to whom they are informed they were held by a certain Joseph White Claggett, who unlawfully detained them in slavery until the said sale, to Richard M Johnson who now holds them in slavery. That your petitioner & her children are lawfully entitled to their freedom being descended from a certain woman named Mary Lyons, who was brought into this country as an indented servant from Ireland to serve a short period of service being a white woman. Your petitioner therefore prays that her claim may be properly examined, & a subpœna therefore issued to the said Richard M Johnson to appear & such order & proceedings may be had upon the premises, as the laws have proceeded & as to your Honors may seem meet And your petitioner will ever pray &c.
George Wattenton Atty for petitioner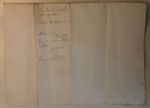 257.
Rachel Lynes on behalf of herself & children
vs
Richard M. Johnson
Mr Brent,
sir,
Please to file the within petition & issue subpœna.
Geo. Wattenton
Filed 1. April 1812