Isaac Davis & Edgar Davis v. John Travers. Petition for Freedom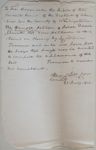 The Humble Petition of Isaac Davis and Edgar Davis sheweth that your petitioner is detained in slavery by-by John Traverse and as he was born free He prays that process may be awarded to compell the appearance of the said Traverse to answer his complaint.
Edm J Lee for Complt
29 Jany 1810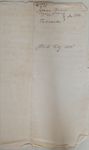 5 221.
Isaac Davis
Edgar Davis
vs:
Traverse
Petn
filed 11 Feby 1810