Mima Queen v. John Hepburn. Petitioners' Bill of Exceptions No. 4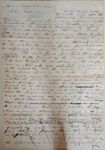 In the trial of this cause and after the following Jurors were sworn James Reed was returned by the Marshall summoned as a Talisman & was called to the book & thereupon the Deft. by his Counsel challenged to said Juror for cause & the following three persons of the pannel sworn in the cause (here insert their names) were thereupon sworn to try whether the said Juror Jas. Reed stood indifferent between the parties in this cause.
The said Juror Jas. Reed thereupon voluntarily stated to the Court & the Triers that he had not heard the evidence in the cause nor made up nor expressed any opinion on the subject & that he should be guided by the evidence offered in the cause.
Thereupon the Court asked the said Juror James Reed whether he stood indifferent between the said parties & whether his prejudices would prevent his so standing indifferent. [ink] & upon the Subject, who answered that he hadn't heard the evidence nor made up an opinion.
And thereupon the Defts. Counsel asked prayd that this question might be part said James Reed, vizt: whether his prejudices against slavery were such as to in a doubtful case would induce him to find a verdict for the Petitioners answered that they would. and that he had declared in conversation on the subject of this suit, that if the evidence was doubtful he would find a verdict for the Petitioners.
Whereupon the Court directed the said Triers that they must find that the said James Reed did not stand indifferent between the said parties.
To which said proceedings & the opinion & direction of the said Court (the)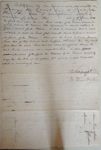 the Petitioner by her Counsel excepts & prays the Court here to sign & seal this her bill of exceptions which is accordingly done this     day of June 1810.
The Court then asked the said Reed whether if the Evidence should be equal between the Petitioner & the Defendant, he should incline to find a verdict for the Petitioner; to which he answered that he should certainly in such an Event feel himself bound to find a verdict in favor of the Petitioner. Whereupon the Court instructed the said Triers that if they believed such Confession & Evidence then they should find that the said Reed did not stand in different between the said parties and was not a competent Juror, to which [ink] instructions of the Court the Petitioner by her Counsel excepts & prays this her Bill of Exceptions to be signed, sealed & enrolled which is accordingly done
N. Fitzhugh (Seal)
B. Thurston (Seal)
Mima Queen & Child
vs
Hepburn
Exceptions
No. 4
James Reed