Mima Queen v. John Hepburn. Petitioners' Bill of Exceptions No. 3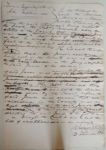 In the trial of this cause the Marshall returned as a Talisman Joseph Thomas & upon the said Thomas's being called to the book, the Petr's Counsel rose & stated to the Court that the said Juror was not a resident of the County of Alexandria within the District of Columbia & that he would himself state that fact to the Court. which he did & claimed to be exempted from serving on the Jury.
The Court thereupon decided that the Juror's residence being out of the County was no exemption objection to his being sworn from serving on the Jury, & ordered the said Juror to be sworn.
Whereupon the said Juror was sworn before any further objection was made & the Petitioners Counsel called out "Challenge" to the said Juror but not till after he had signed the book. The Petrs. Counsel then immediately after the said Juror was sworn, [ink] excepted to the opinion before given by the Court before the said Juror was sworn, viz that non-residence in the County was no legal objection exemption to the said Juror being sworn from serving & being sworn on the Jury, & to the order of the Court directing the said Juror to be Sworn, & prayed the Court to sign & seal this bill of exceptions. which are done accordingly
N. Fitzhugh (Seal)
B. Thurston (Seal)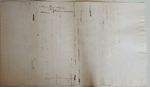 Mima Queen & Child
v
Hepburn
Petitioners Exceptions
No. 3.
Joseph Thomas