Ben v. Sabret Scott. Defendant's Bill of Exceptions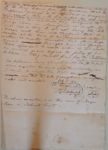 The Petitioner having offered evidence of the facts within stated prayed the Court to direct the Jury that If the Jury believe from the evidence that the Petitioner belonged to the defendant in Virginia and resided there with him; & that the defendant being a citizen of Virginia and so owning the said Petitioner, as a slave, removed his residence from Virginia to George Town in Maryland in or after the year 1794 & that he did not bring the Petitioner with him into the said State to reside at the time of his own removal nor within 12 months thereafter, but after a longer period removed brought him into George Town aforesaid to reside where he did reside for several years before the filing of his Petition. They must find for the Petitioner.
The Petitioner having offered evidence for the purpose of proving, to the facts above suggested, the court gave the instructions as prayed: to which the Deft excepts excepts and this his bill of exceptions is signed sealed and enrolled
feb. 2d. 1811.
W. Cranch (seal)
N. Fitzhugh (seal)
The above exception is in the case of Negro Ben v. Sabret Scott