Ben v. Sabret Scott. Bond for Slaves Terry & Benjamin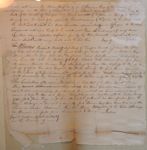 Know all men by these presents that I Thomas Ray of the County of Montgomery in the state of Maryland am held and firmly bound unto Sabrett Scott of the County of Fairfax and Commonwealth of Virginia in the full & Just sum of one hundred & ten pounds current money of Virginia to be paid unto the said Sabrett Scott his Heirs Executors administrators or Assigns to the which Payment well and Truly to be made and Done I bind myself my Heirs Executors administrators & assigns firmly by these presents signed with my hand sealed with my seale and Dated this    Day of     1786.
The Whereas Richard Ratcliff subsherif of Fairfax County Did on the 8th day of July Last past sell to the hyest bidder for ready money a Certain Negro Slave Named Terry & her Son Benjamin. Which said slaves were Distraind on by him the said R. Ratcliff & sold for Publick Taxes & Levies Due him from the above Bound Thomas Ray. who failing to shew other Property to the said sherif of which his said Taxes &c could be Levied. the said slaves agreeable to the Laws of Virginia were sold-- which said slaves the above named Sabrett Scott purchased by becoming the hyest Bidder-- for the sum of £[torn page] Virga. Cury.
The Condition of the above Obligation is such that if the above bound Thomas Ray do and shall well and Truly at all his Heirs Executors administrators &c do and shall well and Truly from time to time and at all Times well and truly [illegible] & Defend the said slaves Terry & Benjamin together with the future Increase of the said slave Terry unto him the said S. Scott and his Heirs forever from the claim Challenge or Demand of him the said Thomas Ray & his Heirs &c. or any other Person or Persons Whosever then the Above Obligation to be Voide. Otherwise to Remain in full force power and Virtue in Law.
Signed Sealed and Acknowledged in The Presence of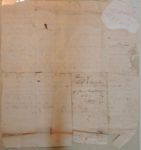 Ray
to
Scott.
Bond &c[?]
for slaves Terrey & Benja.
1786
B.