Sarah Ann Allen v. Joseph Wallingsford. Petition for Freedom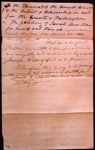 The petition of Sarah Ann Allen for herself and three ch infant children named Eliza Jane Julia Maria & John Davy humbly sheweth
That she & her said children are entitled to their freedom & are unjustly held & claimed by a certain Joseph Wallingsford as his slaves.
Wherefore they pray to be discharged & [illegible] that subpona may issue to the said Joseph to appear & answer hereto.
FS Key for Petrs.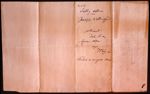 208.
Sally Allen
vs
Joseph Wallingsford
Mr Brent
File it & issue sbpa
yrs
FS Key.
Filed 4 August 1834.