Noah v. John H. Riley. Petition for Freedom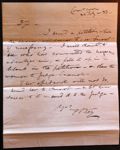 Court Room
22 Feby 33.
Dr Sir,
I send a petition, which the bearer, will swear to, or Smoot if necessary. I will thank you to see who has committed the negro & advertizes him, & fill it up in the blank in the petition. & shew the woman to Judge Cranch.
If her affidavit will not do, send her to Smoot & let him swear to it & send it to the Judge.
Yrs
F S Key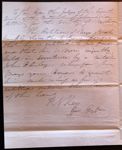 The Petition of Negro Noah humbly sheweth to your Honors that he is entitled to his freedom and that he is now unjustly held in Servitude by a certain John H. Riley. Wherefore he prays your Honors to grant him such relief as he is entitled under the law of the land
F. S. Key for Petnr.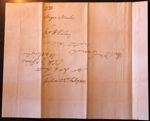 221.
Negro Noah
vs
Jno. H. Riley
Mr. Jno A Smith
Clk's office
Washington
Hon. Wm Cranch
Capitol Hill
filed 22d Feby 1833