James Hutton v. William J. Belt. Petition for Freedom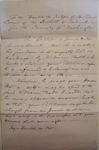 The Petition of James Hutton humbly sheweth that he is entitled to his freedom & is unjustly held in bondage by William Belt who holds & claims your Petitioner, & (as he is informed & believes) means to sell him as a Slave.
Wherefore he prays your Honors that a subpa may be issued to the said William Belt directed, that he may appear & answer hereto, & that your Petitioner may be discharged from his service & obtain such relief in the premisses as to your Honors shall seem right.
Key & Dunlop for Petr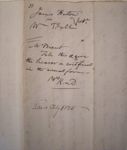 31
James Hutton
vs
Wm Belt
Petn
Mr Brent
File this & give the bearer a certificate in the usual form.
yrs
K. & D.
Filed 12 Feby 1825