Rachel v. James Torrance. Petition for Freedom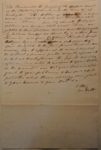 To the Honourable the Judges of the Circuit Court of the District of Columbia for the country of Washington The Petition of Rachel a negro woman in behalf of herself and her infant child named Tom humbly sheweth, That your Petitioner and her said child named Tom are entitled to their Freedom and are nevertheless unjustly held in bondage as slaves by a certain James Torrance and your Petitioner therefore prays that your honors will tender that a subpoena may be issued directed to the said James Torrance commanding him to appear at the circuit court of the District aforesaid for the county aforesaid to be held at Washington on the fourth monday of December next to answer to your Petitioner in the premisses and that your honors will grant to your petitioner & her said child such other relief therein as may seem just to your honors & your Petr. &c.
F. S. Key for Petr.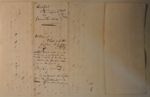 56
Rachel negro woman & her child
vs.
James Torrance
Petn. for Freedom
Mr. Brent
Please file this & issue subpoena.
F. S. Key
Mr Brent will give this woman a certificate for herself & child vz her having a petition for freedom depending in the Court.
F S Key
Filed 29th July 1813.
The certificate should state that "the "Bearer has a petiontition depending &c &c