Mary Lucinda Someby v. Samuel E. Douglass. Petition for Freedom
The Petition of May Lucinda Someby, by Samuel Someby her next friend, and D. A. Hall her attorney, respectfully represents, that she the said Mary is a coloured girl, claimed and unjustly held in slavery, as the slave of Samuel E. Douglass of the City of Washington: and she further saith that of right and in law she is well and justly entitled to her freedom. She humbly prays that the said Samuel E. Douglass may be duly summoned into Court, and the cause being duly heard, that her right to freedom may be fully decreed, and your petitioner will ever pray.
Mary L. Someby by D. A. Hall atty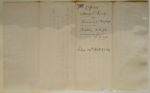 711 (issued)
Mary L. Someby
vs.
Samuel E. Douglass.
Petition to be filed & summons issued
D. A. Hall
Filed 14th Octo. 1854