Charles Bell v. Luther Jones. Petition for Freedom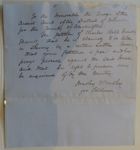 The petition of Charles Bell humbly sheweth that he is claimed to be held in slavery by a certain Luther Jones: that your Petitioner is free: and he prays process against the said Jones and that his right to freedom may be enquired of by the Country.
Bradley & Bradley
for Petitioner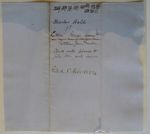 39. 47 79. 219. 150.. 167 93 99. 118 57 52
Charles Bell
vs
Luther Jones admr de bonis non for Walter Chew
Petition for Freedom
Clerk will please to file this and issue
Filed 1st Dec 1854.