William Fenwick v. Lansing Tooker. Deed of Manumission, Clara Fenwick to William Fenwick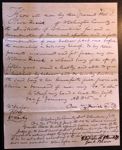 Know all men by these presents that I, Clara Fenwick of Washington County in the District of Columbia for and in consideration of love and affection and in further consideration of one dollar paid me before the ensealing & delivery hereof, do by these presents manumit and set free my son William Fenwick a coloured boy of the age of fifteen years, sound & healthy, and able to gain a livelihood by labour, and do hereby declare the said boy to be henceforth free from all claim & demand of me my Exrs & admrs
Witness my hand & seal this fifth day of January AD 1836.
her
Clara Fenwick (seal)
mark
Witnesses
FSKey
Wm Hawley
Washington County Dist. Columbia sct
On this 5th day of Jany AD 1836 the above named Grantor Clara Fenwick appeared before me one of the Judges of the Circuit Court of Dist. of Columbia for the County aforesaid & acknowledged the foregoing instrument of writing to be her act & Deed according to the act of assembly in such case provided.
taken before me.
Fleet Smith J of Peace (seal)
Jarl Brown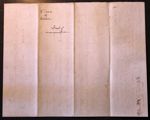 Clara to William
Deed of Manumission