Esther Humphreys v. John B. Lambert. Petition for Freedom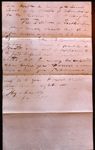 The Petition of Easther Humphreys humbly sheweth that she is a free person & is unjustly held in bondage by a certain John B. Lambert. Wherefore she prays your Honors to grant her the United States writ of subpoena to the said Defendant Lambert directed, that he may be compelled to appear before your Honors & answer hereto & that your Petitioner may be discharged & obtain such relief as to your Honors shall shal seem right.
Key & Dunlop for Petr.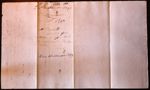 111 623 40
Easther Humphreys
vs
J. B. Lambert
Petn
Mr Brent
File it & issue sbpa, & give Petr. a certificate for protection.
K & D.
Filed 24 March 1823