Rezin Wooden v. James Smith. Petition for Freedom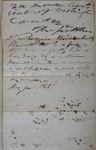 The petition of Rezin Wooden humbly sheweth that he is free & that his is unjustly held in bondage by a certain James Smith & he prays a subpoena & such relief in the premisses as is right &c.
Key for Petr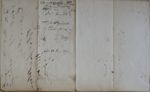 496. 1287 800 1127 496
Rezin Woodden
vs
Jas Smith
Petn
Mr Brent
File it &c
yrs FS Key
filed 8th June 1819.